musician at loveland records:
Chris Cheek
Chris Cheek (b. 1968)
Over the years Chris Cheek has released a number of solo-albums along with his sideman recordings and performances including artists such as Paul Motian, Charlie Haden and Brad Mehldau. Cheek plays with a seldom-heard clarity and diversity of expression, making him one of the most interesting saxophonists of his generation. Combining his personal tone with a highly developed sense of the lyrical and melodic aspects of jazz improvisation, he manages to provide textures and colours to the various bands and constellations he's engaged in, whether the context is downright avant-garde or more in the direction of a 'classic' jazz tradition. For these reasons, among others, Cheek has also been contributing on several Loveland Records releases.
undefined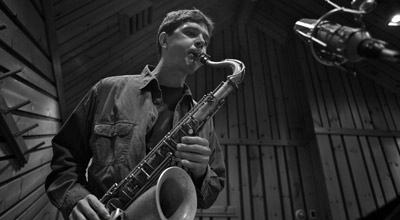 ---
MENU:
---
LovelandRecords.dk
You need to upgrade your Flash Player This content requires the Macromedia Flash Player.

>> GET FLASH

---
---
webdesign and flash by robert haff www.rohaje.dk